How Much do Modular Homes Cost?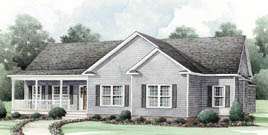 We get this question all the time. "What is the price of a modular home?" Just like with stick built homes, so many things come into play in making this determination.

Ranch homes generally cost more per square foot than a two story home. In the end however, they end up having a lower final price because they have less square footage. The fixed costs: foundation, site preparation and septic, all cost the same no matter what style home you build. Two story homes use a smaller foundation. However, the square footage is greater because you have more than one floor. The larger the home, the more modules you will require, and more modules means higher costs. When you customize the modular floor plan, the costs increase as well.

Modular manufacturers have factory model homes which cost less than custom designed homes. Obviously custom designed homes will cost more.

For more information on the cost of a modular home, contact Tidewater Custom Modular Homes.