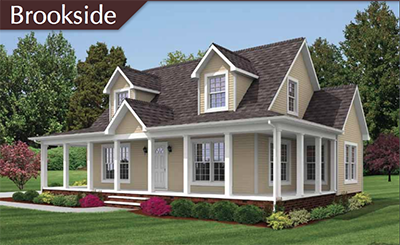 Cape Cod style modular homes in Williamsburg, VA feature the simplicity of the Cape Cod style and the efficiency of modular construction. Cape Cod homes are one of the most popular styles of modular homes due to their versatility. They can be custom-built with additional storage spaces, offering more rooms for growing families and additional amazing features. The Brookside Cape Cod style has a spacious floor plan that allows you to customize your new home, making it an excellent choice for a growing family.
Each Cape Cod style floor plans has ample room for modification with stylish and spacious living areas that can offer multiple functions. If you prefer having a spacious master bedroom situated on the first floor of your two-story home, you may find The Brookside Cape Cod style floor plan as an inspiration to build your dream home. This 1,780 sq. ft. Cape Cod has a spacious master bedroom adjacent to an even more spacious living room. The master bedroom comes with its own walk-in closet and has a large bathroom with shower, soaker tub and vanity. The kitchen and dining area are situated next to each other. It also has a flush bar, refrigerator, and range space giving you a more spacious dining area.
Modular home construction not only caters to your specific needs but also to your family's needs as well. Upstairs there are two bedrooms that share a common bathroom and each has their own walk-in closet and storage space for linens. Also, there is an option to add a basement for extra space. The options in this home are endless.
To find out more about the features of The Brookside Cape Cod style floor plan, contact Tidewater Custom Modular Homes.
Comments (0)
|
Trackbacks (0)
|
Permalink
|
|