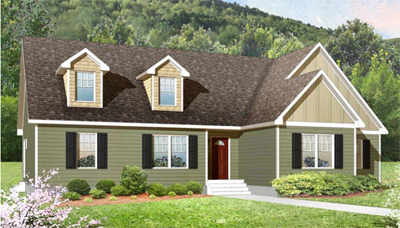 Through the years, the advancements of technology has evolved the home construction industry as well. Modular construction has become the newest trend in home-building making it more cost-effective. Modular home construction has becoming much more practical and popular because of the faster process. These homes are built in state-of-the-art, environmentally controlled factories with the most advance equipment and QA systems. This ensures that modular homes meet the highest quality standards and use the highest quality materials without leaving craftsmanship and aesthetic qualities behind. And because they are constructed off-site in a factory, labor and materials costs are lower as are the costs from vandalism and theft. Also, modular homes offer substantial savings because the price quoted is always your final cost so there are never budget over-runs.
Modular construction allows you to customize your home to your specifications or needs. The ranch style modular homes in Windsor VA offer simplicity, beauty, and durability. With energy-efficient features, contemporary accents, and the freedom to customize your home to better suit your needs and lifestyle, ranch-style home designs can be the right way to build your dream home. Tidewater Custom Modular Home has a wide array of classic modern ranch designs as well as custom ranch designs to choose from. Either a traditional or modern look can be adapted depending on your preferences.
In addition, ranch style modular homes are typically one-story and are popular for their easy living. However, ranch style floor plans offer flexibility, making modular additions or a second story more easily added. You can choose to modify anything you want for both the exterior and interior of your home.
For more information on modular ranch style homes, contact Tidewater Custom Modular Homes.
Comments (0)
|
Trackbacks (0)
|
Permalink
|
|