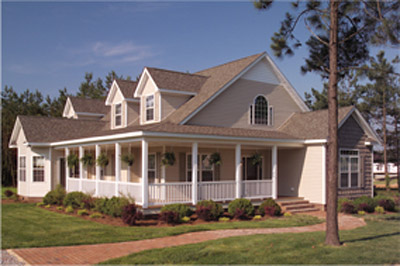 Home appearance isn't everything but it helps people love their home and feel more comfortable about how they live. For homebuyers who want to enhance their home exterior, The Chadwick estate style modular floor plan has the perfect avenue for a beautiful home. This home design will impress passers-by with the following features which can be customized for a maximum outside appeal.
Wrap-around porch. Too many homes do not have this feature. This wrap around porch is definitely a head turner. This unique feature exudes an inviting feel for guests and a laid back atmosphere for owners and friends.
Dormers. Fancy dormers on the second floor characterize the Cape Cod Style modular homes in Suffolk, VA. The Chadwick floor plan's dormers make the front of the home more attractive. Aside from aesthetic purposes, dormers add space in the attic and improve ventilation and natural light inside.
Roof. The roof is the most visible part of the house from all angles. Thus, careful consideration of roof shape and color define the character of homes. It is important to note that roof color should match the siding. Also, material choice is also critical since the roof is front line of defense from weather.
Doors. As guests enter, the allure of the front door is significant. Modular home construction allows customization of doors with a wide variety of options, ranging from the classic and rustic looking to modern.
Windows. Windows and doors tell a lot about the architecture of the home. Bay windows are for modern looking houses while bow windows portray a classical Victorian style.
These features and many more add a richness to the character of The Chadwick modular floor plan. Interior design options are also available which match the beauty outside. For more about customizing the exterior and interior of modular homes, contact Tidewater Custom Modular Homes.
Comments (0)
|
Trackbacks (0)
|
Permalink
|
|