Tidewater Custom Modular Homes, Inc - "2009 - 2010 Builder of the Year"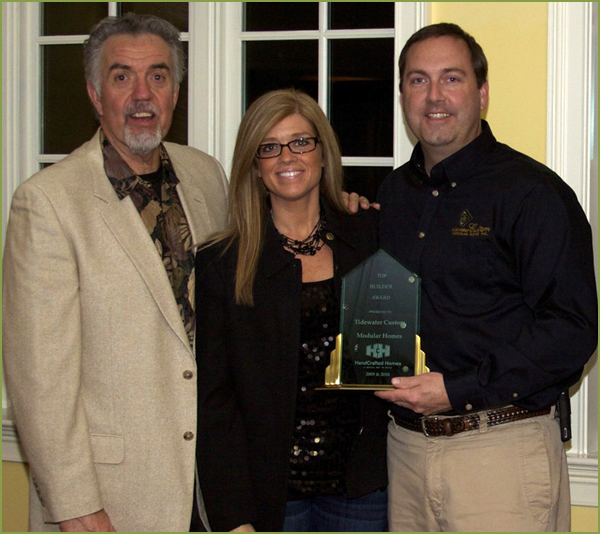 Builder of the Year 2009-2010 for Excel – Modukraf Homes
FOR IMMEDIATE RELEASE
CONTACT: Scott Rouleau
860-677-0560
scott@rouleaucomm.com
www.handcraftedhomes.com
Excel – Modukraf Homes Honors Exceptional Builders at Annual Builder Awards Roundtable
Henderson, NC – March 8, 2011: Excel – Modukraf Homes (www.handcraftedhomes.com), a leader in the modular home industry, recently held their annual Builder Awards Roundtable event at their Henderson, NC facility, followed by an awards dinner at Henderson Country Club. Seven of Excel – Modukraf Homes' builders were presented with a plaque in recognition of their outstanding leadership in sales, as well as innovative design of the HandCrafted product and customer service for 2010.
"These awards demonstrate the exceptional skill and dedication that our builders bring to their work," says Bill Murray, Excel – Modukraf Homes' Vice President and General Manager. "These builders aren't afraid to innovate. They are the best because they excel at everything they do; finance and operations, marketing, construction, customer satisfaction, and community service. This annual Roundtable event is really important to us – we are able to share our past year's success stories, recognize outstanding achievements, have open discussions of mutual challenges, and share exciting news." Murray continues, "This year, we were really excited to announce the introduction of new HandCrafted products including floor plans and marketing tools for the builders, and especially our new Timberland Series brochures and home designs."
Attendees and award recipients included Tammy and John Glover of Tidewater Custom Modular Homes; Jon Duncan of Mayland Home Builders; Tony Hirst of Tony Hirst LLC; Len Fairfield of HandCrafted Builders LLC; Larry Sauls of LGS Homes; Rob Crisman and Bobby Crisman of Lake Gaston Homes, and Kelvin Covington of I&J Home Builders.
Of the Builder Award recipients, Murray says, "Each of these award-winning companies has based its business on a strong foundation of systems, schedules, procedures, and measurements – these are the cornerstones of a building a solid home, as well as that of a well-run home building company. Each of these builders earns the trust of their customer, and is a key part of the Excel – Modukraf Homes family, so we are excited to honor them."
Named as a Top Modular Home Builder by Builder Magazine, Excel – Modukraf Homes has consistently set the standard in the customized niche of the systems-built home market by providing builders with superior customer service, state-of-the-art modular technology and unique home designs. Each and every Excel – Modukraf Homes modular home leaves their facility ENERGY STAR ready. That means that when a HandCrafted Home arrives onsite, it is ready to be installed by one of their builder partners as an ENERGY STAR certified home, making them 20-30% more efficient than a conventional stick-frame home. Excel – Modukraf Homes was established in 1998 and is a wholly owned subsidiary of HHHunt, a major residential and commercial real estate developer. For over three decades, HHHunt has been a recognized leader in real estate development through out Maryland, Virginia, North Carolina, Tennessee and South Carolina.
For more information about Excel – Modukraf Homes, to find a builder or learn more about Excel – Modukraf Homes' designs, call toll-free at (877) 424-4321, or visit them online at www.HandCraftedHomes.com.
For media inquiries, please contact Scott Rouleau at Rouleau Communications LLC by calling 860-677-0560 or via email at scott@rouleaucomm.com.